Nira Paaz - Association Director
An award winning dancer and noted ballet teacher.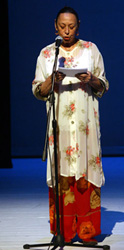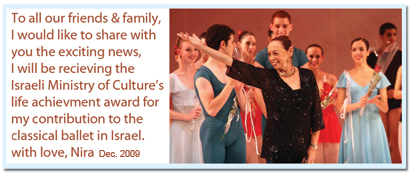 Nira Paaz was one of Mia Arbatova's senior students, who, in 1989, together with the Director of the Suzanne Dellal Centre, Yair Vardi, and the late poet and journalist, Hezi Leskly, initiated the establishment of the Mia Arbatova Ballet Competition.

Paaz began her dancing career in the studios of Gertrude Kraus and Mia Arbatova and for 30 years appeared as a soloist with some of the finest companies in Israel and abroad, among them the Israel Ballet, the Bat Dor company, Bat Sheva Dance company and the Metropolitan Opera Ballet company in New York. Paaz won the Kinor David Prize as dancer of the year and was listed as an outstanding dancer by the magazine "Dancing Times" in England.

Throughout the years, Paaz has directed the special performances given by the Bat Sheva 2 company for schools, has taught in Tel Aviv at the Bikorei HaItim Centre as well as at the Seminar HaKibbutzim and was also teacher of ballet and methodology at the Rubin Academy for Music and Dance in Jerusalem.

Today, she still teaches at the Bikorei HaItim Centre and also sits on several public committees in the field of the arts and culture. In February 2008, she joined a distinguished panel of judges for the Limasol Ballet Competition in Cyprus.